OUR
SERVICES
The Filthy Moustache team is on a mission to create the best street food in Johannesburg, and we want Jozi food lovers to experience our delectable gourmet burgers and hot dogs and our quirky, naughty, and fun side.
The Filthy Moustache is called Filthy for a reason – a napkin may be required.
Food truck [noun] – A large-wheeled vehicle that typically contains cooking facilities where the food is prepared and from which food is sold.
THE FOOD
TRUCK
Follow our food truck for the best street food experience in Johannesburg.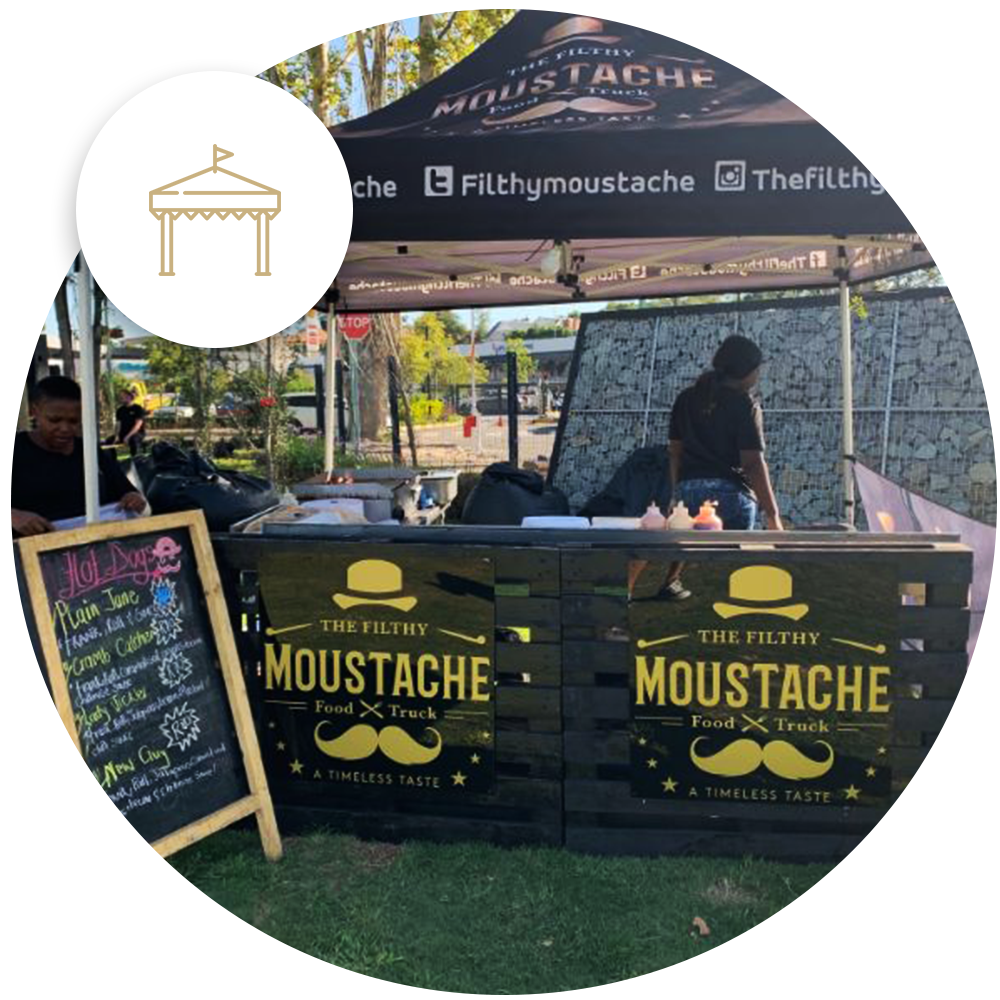 THE POP UP
STALL
Who says you can't be in two places at once? You'll spot our pop-up stall at events with limited space or when the truck is otherwise occupied.
VW CONVERTED
HIPPIE VAN
Like The Filthy Moustache's timeless taste, our converted hippie van is a classic with an unmistakable vibe. Book it for your next event.
MOBILE
DJ
Double The Filthy Moustache delight at your celebration. Tick off food and entertainment in one filthy move.
Food trucks are to adults what ice cream trucks are to children. – Andrew Harrison.
THE FILTHY
TEMPTATION
What is it about food trucks that make us more fascinated and excited when buying food? It can only be that smell of crispy bacon, grilled to perfection, tempting the noses of the hungry people in the long line, including you. It's also the freshly baked roll with a juicy medium to well 180 g patty, melted cheddar cheese that is sticky and rich, and the choice between caramelised onions infused with balsamic vinegar and brown sugar, or spicy jalapeños, the guac with creamy feta sprinkled all over, and the chillinaise sauce that complete the whole experience.
Or take all these toppings minus the cheese and slap it onto a giant frankfurter in a fresh bun. How perfect. If you're not in the mood for something that meaty, have a dog instead.
It's a wonderfully filthy adventure – the food, the smell, the name, the look, and the service. The Filthy Moustache has it all.
CONTACT THE FILTHY MOUSTACHE FOR MORE DETAILS
Please contact us to see how we can cater to your specific needs.